Total number of beneficiaries
Total number of people trained
In April, a team of 17 individuals from Spain, 1 from Nicaragua, 2 representatives from Surgeons of Hope and one from Mending Kids, devoted a week of their time to participate in a life-saving mission. From April 15-22, the team conducted surgeries and catherizations on over 30 children aged between 2 months and 17 years in Paraguay over a five-day period. During this time the team had the privilege of getting to know the children on a personal level, learning about their aspirations, daily lives, interests, and favorite school subjects. This was the first time that Surgeons of Hope had partnered with Mending Kids, and the collaboration proved to be a great success. Not only were the teams able to work together on a medical mission but they were also able to meet with the local UNICEF office and the Spanish Chamber of Commerce in Paraguay to discuss potential areas of collaboration and support. These meetings provided valuable insights into the needs and challenges facing the healthcare system in Paraguay and laid the groundwork for future initiatives to improve healthcare access and outcomes in the region.
Overall, the surgical mission to Paraguay was a testament to the power of collaboration and the importance of global health initiatives. Through the efforts of Surgeons of Hope, Mending Kids, and their local partners, over 30 children were able to receive life-changing medical treatment, and valuable connections were established that will help to improve healthcare access and outcomes in the region for years to come.
Below are a few pictures of the mission:
Surgeons of Hope strives to create a world in which every infant and child with a damaged heart has an equal opportunity to receive life-saving surgery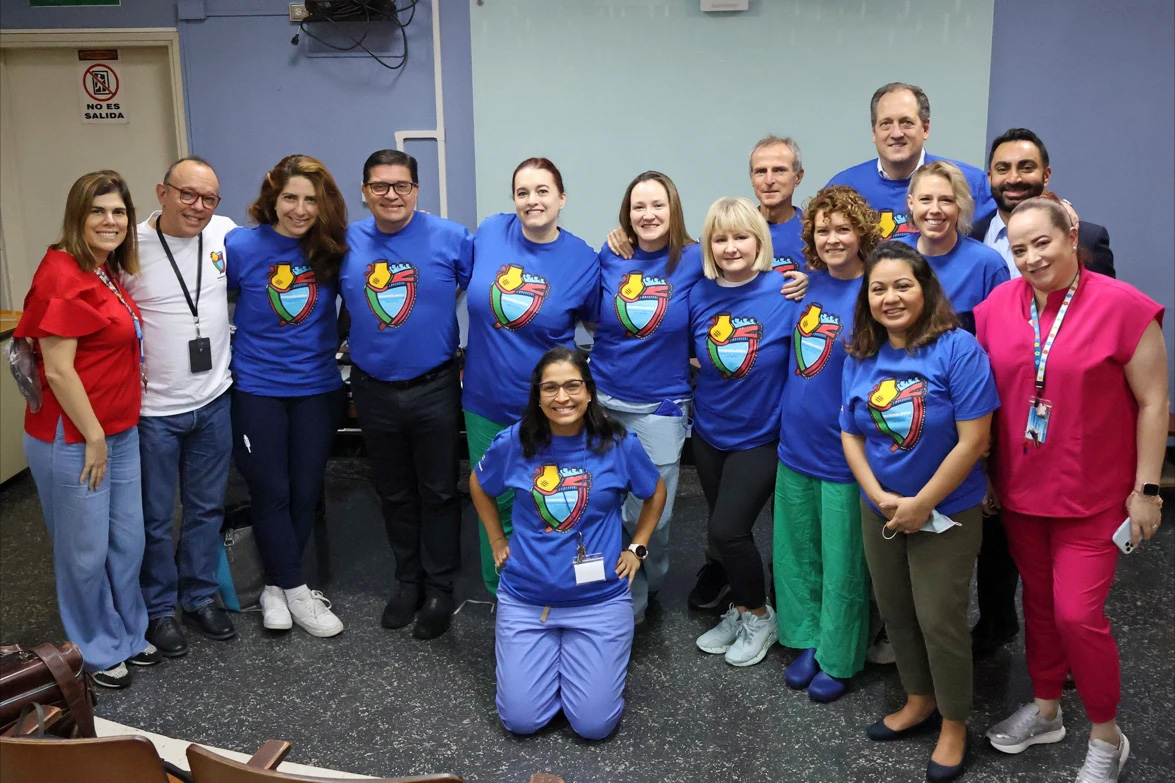 Surgeons of Hope's returned to Costa Rica after a 3-year hiatus because of the pandemic. A medical team from Chicago, led by
Surgeons of Hope's first surgical mission after the pandemic was a success. A medical team from France, led by Dr. Dominique Metras,
Four nurses from the Hospital Pediátrico Niños de Acosta Ñu completed a one- month training at the Hospital General Universitario Gregorio Marañón
Sign up for Our Newsletter
Nahiara Pavón is a 6-year-old girl from a town called Mariano Roque Alonso, located near the capital of Paraguay. On July 6th it was necessary to connect her to the artificial heart Berlin Heart while waiting for a heart transplant. Fortunately, the wait did not last long. On July 10th a compatible donor appeared. The transplant surgery was successfully performed without complications. Currently Nahiara is in very good condition.
The photo captures the moment in Paraguay when Nahaira's mom learned from the surgeon that surgery had gone well and that little Nahaira would enjoy a normal childhood and grow into adulthood. Although there is a mask, you can imagine the tears of elation and relief. Surgeons of Hope is working to create more of those moments as we help these countries provide life-altering pediatric heart surgery.
Holman received lifesaving surgery 6 years ago, when he was just 12 years old. We were able to reconnect with Holman and his doctor. This compelling story was captured on video and truly embodies the Surgeons of Hope mission.